Receiving a breast cancer diagnosis, or even finding a lump in the shower, can strike fear in the hearts of women everywhere.
The devastating news about Kelly Preston shines a spotlight on the worst-case scenario for anyone touched by breast cancer.
Dr. Heather Richardson of Bedford Breast Center in Beverly Hills, CA wants to ensure that for most women – including those who have had or are currently going through  such a grave outcome is not common and is not most people's experience.
The reality of getting diagnosed is actually lower than most people think. Most breast cancer diagnoses are found have many treatment options resulting in long life and more often than not, cure- especially if it's caught early. Advanced spread outside the breast and under arm lymph nodes (Stage 4) breast cancer, doesn't happen very often and accounts for only about 6% of all diagnoses.
What is typical?
Annually, there are approximately 270k diagnoses in the US of invasive breast cancer and an additional 50k with pre-invasive breast cancer. When breast cancer is caught early, the cure rate is approximately 99%. Of those who have invasive cancer, the 5-year survival rate is 91% and the 10-year survival rate is 84%.
What are the exceptions and why do they happen?
Unfortunately, some cancers are just very sneaky. A very tiny subset of people are affected this way; they do everything right – they get regular screenings, their doctors are on top of it in every way possible, and cancers can grow and spread under the radar of the body's immune system, showing up in multiple areas seemingly out of nowhere. In other instances, some tumors appear small, contained, treatable, and curable, but for some reason, recommendations and treatments we have just aren't powerful enough and the cancer progresses in front of us.
When it does happen, the sudden loss of a loved one that is so incredibly tragic and sad, puts the focus on returning to research to push forward to find more solutions until we have a future world where breast cancer isn't a threat to anyone else.
Even still, there is hope in the strides we've made- Breast cancer deaths are down 40% from 1989-2007. As we gather more data, we anticipate that number to continue dropping. Treatments are more effective & less toxic, and we are doing more to preserve healthy tissue – acknowledging a patient's appearance and giving importance to a beautiful outcome so people who are living with breast cancer can have a long and healthy life after their diagnosis.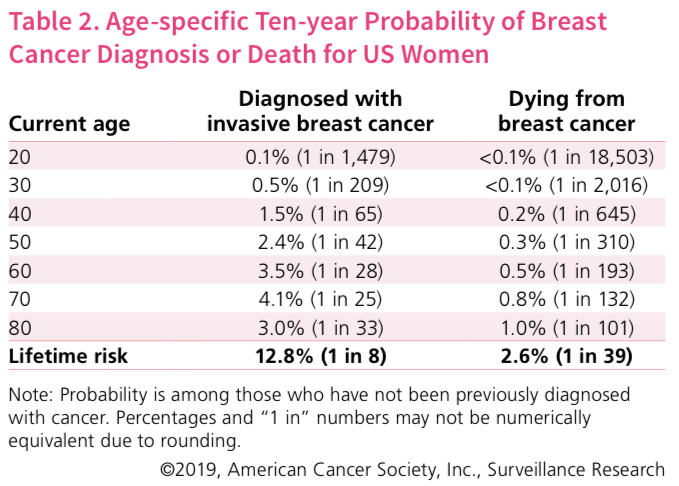 Source: American Cancer Society, Inc., Surveillance Research
If you've ever been diagnosed, or if you are currently undergoing breast cancer treatment, the chances of it progressing to a lethal end in a short amount of time is very rare. Even if you have a history of cancer in your family, with regular screening and self-breast exams your chance of diagnoses remains low, and your chances of survival are extremely high.
Bedford Breast Center: The Leading Breast Cancer Treatment Center in Beverly Hills
For more information about our breast cancer diagnosis options, please contact the team at Bedford Breast Center for a consultation. We offer compassionate, comprehensive breast health services to women with all types of breast issues. For more information or to schedule an appointment with Dr. Heather Richardson at the Bedford Breast Center, contact us online or call (310) 278-8590. Servicing Beverly Hills, Santa Monica and the greater Los Angeles area.